11 Best Low Carb Keto Smoothie Recipes To Jumpstart Ketosis
Need a quick meal or a tasty treat on the keto diet? Try one of these 11 Best Low Carb Keto Smoothie Recipes that'll help jumpstart ketosis! Not only do they taste great, they'll keep you full and focused throughout the entire day! Kids love them too!
This post may contain affiliate links, read our full disclosure here.
Smoothies are an easy way to up your fat intake on the keto diet; just blend and sip!
While you can never go wrong with yogurt, protein powder, and a little ice, there are certainly other ingredients you can add to kick your low carb smoothie up a notch like:
Berries
Spices
Vegetables such as kale and spinach
Coconut milk or other plant milk
Coffee
For more yummy inspiration, here are 11 of the best keto smoothie recipes you'll love!
And as always, to get to any of these recipes, just click the link below each picture and description!
1. Low Carb Keto Turmeric Breakfast Smoothie
Turmeric has a wide range of health benefits. Here are a few cool facts about this ancient root:
Turmeric contains curcumin which has amazing anti-inflammatory properties. And because curcumin is fat soluble, it's better absorbed when taken with a fatty meal – like that of a keto diet!
It increases the body's antioxidant capacity, allowing for better protection against cancer-causing free radicals.
It boosts brain function and lowers the risk of brain diseases.
Turmeric can also decrease your blood pressure by improving blood vessel functioning.
And that's just to name a few!
If you're new to turmeric, this keto smoothie recipe is a great introduction.
It's high in protein and healthy fats to keep you energized all day long.
Plus, it tastes amazing!
Get the recipe at IEatKeto
2. Low Carb Keto Coconut Lime Coolers
While not technically a smoothie, this low carb coconut lime cooler still hits the spot when you need a blended drink.
It's so easy and you can even make keto cocktails with it!
Get the recipe at AllDayIDreamAboutFood
3. Creamy Keto Cinnamon Smoothie
This creamy keto cinnamon smoothie is amazing for early mornings.
It's the kind of thing that'll keep you pumped – even on Mondays!
Get the recipe at KetoDietApp
4. Low Carb Strawberry Coconut Smoothie
Made with a simple recipe of full-fat coconut milk, strawberries, vanilla extract and protein powder, this strawberry coconut smoothie is going to be your go-to keto beverage!
Get the recipe at TheFoodieAffair
5. Chai Infused Pumpkin Keto Smoothie
This chai-infused pumpkin keto smoothie is a delicious treat you can whip up in no time at all.
It's made with freshly pureed pumpkin, vanilla bean, and chai tea – all the flavors of Starbucks without any of the carbs!
Get the recipe at HealthfulPursuit
6. Vanilla Keto Smoothie
What I love about this vanilla keto smoothie is that it tastes great on its own and as a base for additional ingredients.
Get the recipe at KetoDietApp
7. Low Carb Strawberry Cheesecake Smoothie
This low carb strawberry cheesecake smoothie is perfect for when you want to keep your hunger at bay while at the same time upping your fat intake.
Get the recipe at ThriftyDIYDiva
8. Keto Chocolate Peanut Butter Breakfast Smoothie
Get your chocolate and peanut butter fix with this satisfying keto smoothie that's also vegan-friendly!
Get the recipe at BrokeFoodies
9. Keto Blueberry Cheesecake Smoothie
If you love cheesecake, you have to try this smoothie!
This keto blueberry cheesecake smoothie is a great quick meal or dessert!
Get the recipe at ButterTogetherKitchen
10. Low Carb Peanut Butter and Jelly Smoothie
Enjoy the flavors of a peanut butter and jelly sandwich in this low carb dairy free smoothie!
Tip: Mix it up and blend using different fruits!
Get the recipe at PeaceLoveAndLowCarb
11. Healthy Keto Green Smoothie
An effortless way to increase your intake of magnesium and potassium is to add some greens to your keto smoothie.
Veggies like spinach are easily masked in a smoothie, so it's a great option for kids as well (just don't tell them what's inside!).
Get the recipe at KetoDietApp
That's it! We hope you like these recipes and remember to Pin It so you can come back to it later!
---
More keto recipes you're going to love!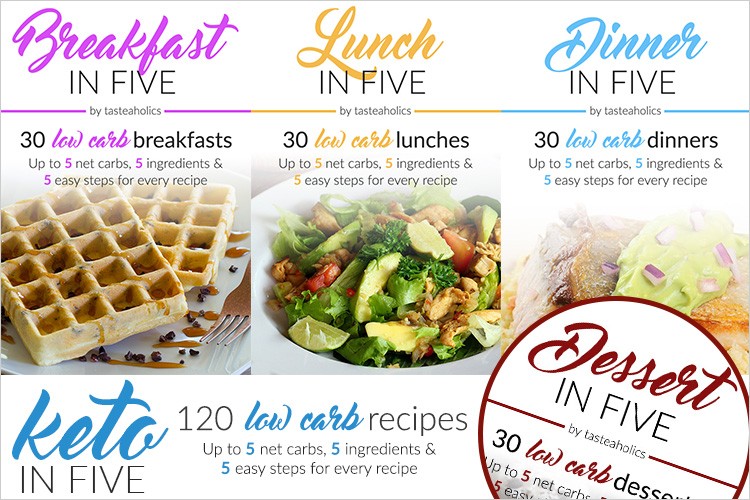 ---
---