16 Best Low Carb Keto Breakfast Muffin Recipes To Power Your Mornings
A warm low carb muffin is the best way to power your busy morning. These 16 Best Low Carb Keto Breakfast Muffin Recipes are moist, delicious, and perfectly portable. Enjoy them for breakfast, lunch, and even dessert! The possibilities are endless when you're up against these amazing bites!
This post may contain affiliate links, read our full disclosure here.
Keto breakfasts are oftentimes boring with a side of eggs.
Switch things up and add these sweet treats to your breakfast menu instead!
These low carb keto muffins are so easy to make and the whole family will love them, whether they're on the keto diet or not!
As always, to get to any of these yummy recipes, click through the link at the bottom of each picture!
1. Low Carb Keto Fresh Strawberry Muffins
These keto strawberry muffins are an easy on-the-go breakfast you can make in under half an hour.
They're made with fresh strawberries and can be sweetened with any low carb sweetener you have on hand.
We love these for breakfast, snack time, and especially for dessert!
Get the recipe at HowToThisAndThat
2. Extra Fudgy Keto Double Chocolate Muffins
If you're a chocolate lover, you HAVE to make these extra fudgy double chocolate keto muffins.
They're rich with just a bit of flaky seat salt to complement their complex flavor.
Enjoy them for breakfast or top with your favorite low carb keto ice cream for an immensely satisfying dessert!
Get the recipe at Gnom-Gnom
3. Keto Banana Nut Muffins
Swap out your boring keto breakfast routine for this tasty keto banana nut muffin!
These muffins sit at only 4g net carbs each but you wouldn't think so with all that yummy walnut crumble on top!
Get the recipe at HeyKetoMama
4. Low Carb Lemon Sour Cream Muffins
There's something about the fresh flavor of lemon in the morning that's highly energizing.
These low carb lemon sour cream muffins taste like a mini lemon cake and come with a streusel and lemon glaze that's just to die for.
Tip: Bake in a loaf pan for low carb copycat Starbucks bread!
Get the recipe at IBreatheImHungry
5. Keto Pumpkin Cream Cheese Muffins
Speaking of Starbucks, these low carb keto Pumpkin Cream Cheese Muffins will leave your house smelling like a coffee shop on a fall morning.
These guys are super moist and are only 6g net carbs per serving so you can have them each morning without fear of breaking your diet!
Get the recipe at GreenAndKeto
6. Low Carb Keto Coffee Cake Muffins
Coffee cake was one of my favorite guilty pleasures before going keto so I was ecstatic to come across this low carb recipe with all the fixings that I know and love!
Pair this with your favorite cup of coffee or tea for a truly special ketogenic experience!
Get the recipe at JoyFilledEats
7. Keto Chocolate Chip Muffins
Chocolate chip anything is always a good idea.
These keto chocolate chip muffins are packed with so many dark chocolate chips, you'll fall in love!
Get the recipe at HealthyRecipesBlogs
8. Keto Pumpkin Chia Muffins
If you're looking for a muffin with a lower carb content, these keto pumpkin chia muffins are a good option at only 3g net carbs.
These are made with ground up chia seeds and topped with pumpkin seeds for a healthy omega-3 breakfast.
Get the recipe at KetoDietApp
9. Keto Low Carb Blueberry Muffins
These keto blueberry muffins are filled with fresh blueberries and are so easy to make.
Bake them the night before and enjoy with low carb ice cream for dessert!
Get the recipe at SavoryTooth
10. Carrot Cheesecake Muffins
Another great low carb (3.5g net carb) muffin recipe from Martina is this carrot cheesecake muffin.
It has the lovely taste of a carrot cake minus the carbs!
Get the recipe at KetoDietApp
11. Keto Pecan Pie Muffins
These keto pecan pie muffins offer the stickiness you love from pecan pie in a low carb bite!
And at only 2g net carbs, they might be the lowest carb content muffins ever!
Get the recipe at SugarlessCrystals
12. Low Carb Keto Cranberry Sour Cream Blender Muffins
Save yourself time and energy… Enlist the help of your trusty blender!
These keto cranberry sour cream blender muffins come together in no time at all and I like to think a blender equals more fun!
Get the recipe at AllDayIDreamAboutFood
13. Keto Cranberry Orange Muffins
How good do these keto cranberry orange muffins look??
I swear you can literally smell them!
Get the recipe at RealBalanced
14. Low Carb Cinnamon Roll Muffins
This cinnamon roll keto muffin is a cinch to make.
It's eggless and butter-less, but don't let that worry you.
This is one seriously moist muffin!
Get the recipe at TheBigMansWorld
15. Keto Apple Muffins
These keto apple muffins are flavorful little morsels doused in a maple glaze that's 100% low carb and delish.
The "apple" in this recipe is actually made from zucchinis!
Pure genius.
Get the recipe at Gnom-Gnom
16. Low Carb Keto Lemon Poppy Seed Muffin
Last but not least, we can't forget about lemon poppy seed.
This muffin staple has gone keto and of course, Paola couldn't leave these bare.
So she's blessed us with a lemon glaze that'll satisfy any early morning sweet tooth!
Get the recipe at Gnom-Gnom
That's it! We hope you like these recipes and remember to Pin It so you can come back to it later!
---
You'll love these other breakfast ideas!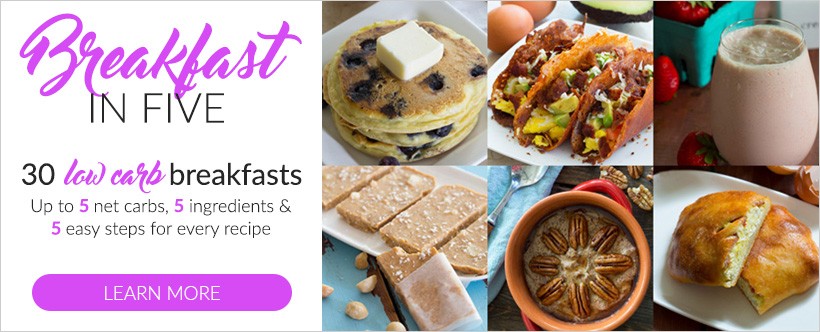 ---
---