23 Best Low Carb Keto Cupcake Recipes You Need In Your Life
If you've been dreaming of low carb cupcakes complete with guilt-free frosting, you've come to the right place! These are 23 Best Low Carb Keto Cupcake Recipes, perfect for snacking. Stash one in your work bag to quickly satisfy midday cravings or as a treat after dinner. However you plan to enjoy them, there's one thing for certain, you're going to love them! 
This post may contain affiliate links, read our full disclosure here.
These keto cupcake recipes are great portioned sized cakes that go great with any meal.
Cupcakes are awesome two-for-one deals because you can leave out the frosting and enjoy them as muffins! However, you may need to lessen the amount of sweetener if you'd like to eat them with your morning coffee. 🙂
To get to any of these yummy recipes, click through the link at the bottom of each picture. So without further ado, let's get into it!
1. Keto Lemon Poppy Seed Cupcakes
Treat your tastebuds to these refreshing keto lemon poppy seed cupcakes.
Made with Natvia Icing Mix, these low carb goodies are out of this world. This is one of those cupcake/muffins you're going to want to start your mornings with!
Get the recipe at MyKetoKitchen
2. Keto Vanilla Cupcakes with Buttercream Frosting
Here's a keto-fied version of the classic vanilla cupcake.
If you're looking for a light cupcake recipe with plenty of buttercream icing, this is the one!
Baking keto cupcakes can be a bit different than regular cupcakes because of the nature of the ingredients. Luckily, Green & Keto has some great tips so take time to implement them!
Some important tips to consider:
Ensuring eggs and butter are room temperature
Using fresh baking powder
Greasing cupcake liners (coconut flour is stickier than regular flour)
Checking on the cupcakes often (coconut flour is fast to brown)
Get the recipe at GreenAndKeto
3. Low Carb Coconut Flour Chocolate Cupcakes with Espresso Buttercream
These low carb chocolate cupcakes are going to have you saying WHOA.
The cupcake itself is infused with coffee to bring out the chocolate-y flavor and the espresso frosting is literally the icing on the cake.
You can easily serve this at a party and have it be the belle of the ball.
Get the recipe at AllDayIDreamAboutFood
4. Keto Hostess Cupcakes
Well, aren't these dreamy?
These low carb copycat Hostess/Little Debbie cupcakes are certainly a dream come true for fans of the original. They contain enough fat that you can eat them as fat bombs.
This recipe is in metric units. You can do the conversions or invest in a food scale. Weighed units is always going to be more accurate and accuracy is crucial to keto baking perfection!
Get the recipe at Gnom-Gnom
5. Chocolate Cupcakes with Peanut Butter Frosting
Chocolate and peanut butter just go good together.
Whip up a batch of these moist chocolate cupcakes with peanut butter frosting this weekend!
Get the recipe at HealthyRecipesBlogs
6. Low Carb Coconut Flour Cupcakes
These coconut cupcakes are a taste of paradise. Paired with a sugar-free buttercream frosting, you can't go wrong.
Get the recipe at LowCarbYum
7. Keto Lavender Cupcakes
Keto lavender cupcakes are the perfect dessert to serve for brunch and gatherings.
These are light and airy and taste just like spring!
Get the recipe at ThisMomsMenu
8. Low Carb Keto Lemon Meringue Cupcakes
If you love lemon meringue pie, these low carb keto recipe will blow you away.
Not only do these cupcakes have a healthy dollop of meringue, they're filled with a homemade lemon curd that you can make in just 5 minutes!
Get the recipe at KetoCookingChristian
9. Keto Pumpkin Spice Latte Cupcakes
No keto cupcake recipe is as extra as this one and we mean that in the best way possible!
These are filled with a pumpkin cream cheese and for toppings, well you get OPTIONS. You can go for a cream cheese buttercream frosting, almond streusel, or leave things bare. Whatever you choose, you already know it's going to be AMAZING.
Serve them with a cup of coffee for a super satisfying snack.
Get the recipe at Gnom-Gnom
10. Keto Key Lime Cupcakes
Here's another keto cupcake recipe to satisfy your pie needs.
This cupcake has a lime and coconut flour base. It uses a whole avocado and some more lime juice for the key lime frosting.
Get the recipe at OMGKetoYum
11. Low Carb German Chocolate Cupcakes
These German chocolate cupcakes are so decadent, you won't believe they're keto.
Like the original, the topping is made with coconut and pecans but sweetened with monk fruit.
Get the recipe at MeganSeelinger
12. Low Carb Snickers Cupcakes
Rush to your nearest Aldi's and grab a box (or 10) of their Elevation Bars.
These keto chocolate bars taste just like a Snickers, but with only 2g of net carbs. Cut them into triangles to top your keto chocolate cupcakes.
Get the recipe at ResolutionEats
13. Keto Raspberry Chocolate Champagne Cupcakes
Need a keto cupcake for a special occasion? Look no further, these low carb Raspberry Chocolate Champagne Cupcakes are it!
These chocolatey cupcakes are filled with a fragrant champagne infused raspberry center and topped with a raspberry frosting that also has champagne in it!
Get the recipe at JoyFilledEats
14. Keto Carrot Cake Cupcakes
At just 3g net carb, these keto carrot cake cupcakes deserve a place on your baking to-do list.
They're moist, flavorful and certified low carb. You can even bake them on a sheet pan to make a layered cake for parties!
Get the recipe at Gnom-Gnom
15. Low Carb Keto Chocolate Chip Cupcakes with Chocolate-Vanilla Swirl Frosting
These keto cupcakes are sort of a cross between a chocolate cookie and a muffin but with an added bonus of chocolate-vanilla frosting on top!
Plus, they're cute enough to serve at any get together!
Get the recipe at AllTheNourishingThings
16. Keto Gingerbread Cupcake
It doesn't have to be fall to enjoy your favorite spiced desserts and this keto gingerbread cupcake is proof.
These little guys are full of ginger, cinnamon, and nutmeg and topped with a delicious lemon buttercream frosting. They also make great muffins to stash in your bag.
Want a keto gingerbread man topper? Paola has a recipe for that too!
Get the recipe at Gnom-Gnom
17. Keto Chocolate Mint Cupcakes
Mint and chocolate are a match made in heaven and these keto cupcakes certainly fit the bill.
Plus, the dual color frosting is fun for everyone!
Get the recipe at EatBeautiful
18. Keto Red Velvet Cupcakes
These keto red velvet cupcakes taste just like the real deal. The secret ingredient?
White vinegar.
Get the recipe at MyCoffeeHasButter
19. Low Carb Keto Strawberry Cupcakes
These keto strawberry cupcakes use real strawberries and will delight even the pickiest of eaters!
Get the recipe at TheSugarFreeDiva
20. Low Carb Chocolate Ganache Filled Cupcakes
These keto chocolate cupcakes are a triple threat.
They're filled with a flavorful chocolatey ganache that's incredibly easy to make. A bite of this and you'll fall in love!
Get the recipe at SugarFreeMom
21. Low Carb Keto Vanilla Latte Cupcakes
This keto cupcake has notes of vanilla and espresso, making it the perfect dessert to enjoy with a cup of coffee.
Get the recipe at AllDayIDreamAboutFood
22. Keto Maple & Bacon Cupcakes
Are we right to say bacon goes well with everything?
These low carb Keto Maple Bacon Cupcakes are truly special. You get a delightfully surprising salty and sweet mix in every bite.
Get the recipe at MyKetoKitchen
23. Low Carb Green Tea Cupcakes with Ginger Lime Cream Cheese Frosting
Not your everyday cupcakes, these keto green tea cupcakes are made with matcha and topped with a ginger lime frosting that's just as unique as they are.
Get the recipe at TheHealingSpoon
That's it! We hope you like these recipes and remember to Pin It so you can come back to it later!
---
More keto recipes you might like: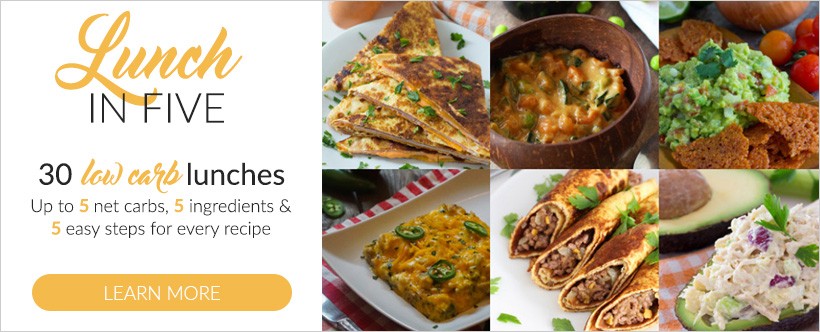 ---
---