7 Best Low Carb Keto Zoodle (Zucchini Noodle) Soup Recipes
Plenty of vegetables (and even some fruit!) can be spirulized. One of the most popular low carb spirulized vegetables are zucchinis.
Once spirulized, these high fiber vegetables become zoodles aka zucchini noodles, and they're perfect for substituting in your favorite soups, salads, and pasta recipes.
Check out these 7 Best Low Carb Keto Zoodle Soup Recipes that'll instantly be household favorites!
This post may contain affiliate links, read our full disclosure here.
Spirulizer recipes offer a ton of versatility and are delicious low carb alternatives to pasta. So it comes as no surprise that they're the perfect addition to keto meals.
Zoodle soups are awesome because not only are they quick to make, they're excellent as part of your keto meal prep plan!
Many of these soups can be made in under 20 minutes. Some can even be made in your instant pot or crockpot.
Zucchini noodles can be cooked al dente or left to simmer so they become softer in texture – totally up to your preference!
As always, to get to any of these yummy recipes, click through the link at the bottom of each picture. So without further ado, enjoy these amazing keto zoodle soup recipes!
1. Low Carb Chicken Zoodle Soup
Chicken soup is so comforting. It has the uncanny ability to fight colds, making it the perfect soup for winter time blues.
This low carb chicken zoodle recipe is especially great for those on the keto diet and also for getting kids to eat their vegetables.
You can easily make this ahead of time and reheat for a quick dinner or snack!
Get the recipe at ThatLowCarbLife
2. Thai Chicken "Ramen" Zoodle Soup
This keto Thai Chicken Ramen Zoodle Soup is made from a stock of creamy coconut curry and packed full of aromatic spices.
It's low carb and way better than takeout.
Related:
9 Best Low Carb Keto Stuffed Avocado Recipes – Avocado Boats
8 Best Low Carb Keto Cauliflower Rice Recipes That'll Be Household Favorites!
Get the recipe at Wholesomelicious
3. Spicy Chicken Zoodle Soup
Since we're on the spicy train, here's another recipe that'll heal your sinuses.
This is a keto chicken zoodle soup made fresh with the addition of buffalo hot wing sauce (strange, but so good!).
Get the recipe at Wholesomeliciousness
4. Pesto Chicken Zoodle Soup
This pesto chicken zoodle soup can be made with an instant pot or on your stove top.
Trust me when I say any and all pasta cravings will be completely banished after a bite of this soup!
This is a simple low carb recipe that you can enjoy in under 20 minutes so you're free to prepare it whenever you wish.
Plus, it's a great way to stay hydrated during those dry winter months.
Get the recipe at RealFoodWithJessica
5. Vegan Miso Zoodle Soup
At 4.9g net carbs per serving, this miso soup is a great keto zoodle recipe to serve alongside dinner or lunch.
You can also add a ton of yummy vegetables like mushrooms and okra for extra nutrition and fiber.
An awesome thing about miso is that it promotes gut health by providing you with healthy probiotic bacteria.
It's also full of essential vitamins and minerals such as vitamin B, E, K and folic acid.
Get the recipe at TheFitchen
6. Instant Pot or Slow Cooker Spicy Beef & Broccoli Zoodle Soup
This Spicy Beef and Broccoli Zoodle Soup is perfect for busy nights.
It's an easy low carb soup that can be made in either a crock pot or instant pot!
If you aren't a fan of spicy food, you can definitely leave out the pepper and it'll still be an amazing dish!
Get the recipe at Wholesomelicious
7. Spicy Sriracha Lime Chicken Zoodle Soup
If you like spicy sriracha lime flavors, you're going to love this recipe.
The addition of zucchini noodles make this a refreshingly low carb soup you'll make again and again.
And as you can see, I'm crazy about spicy soups.
There's just something about getting your sinuses cleared and bellies warm from all the yummy chilis!
Get the recipe at PeasAndCrayons
That's it! We hope you like these recipes and remember to Pin It so you can come back to it later!


---
Need a homemade keto dinner the entire family will love? Try one of these 24 Low Carb Keto Pizza Recipes!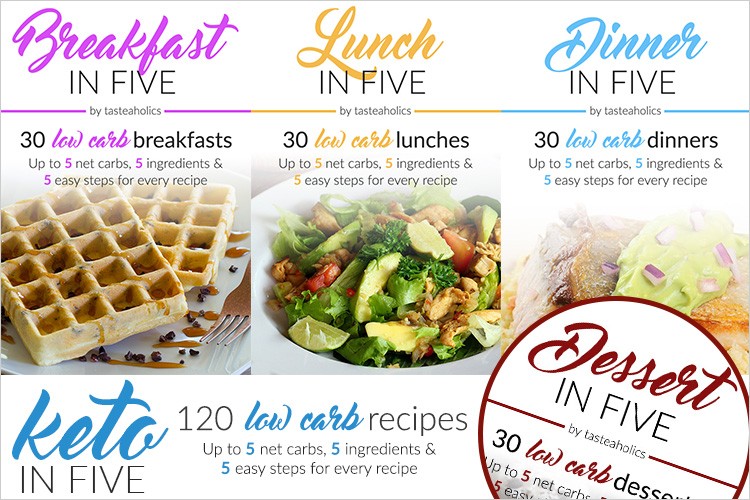 ---
---