16 Best Low Carb Keto Cauliflower Recipes That'll Cure Your Cravings
Cauliflower is one of the most versatile keto ingredients and it's not to be taken for granted. This amazing veggie can be made into breads, casseroles, soups, and even mashed potato (err.. mashed cauliflower!). So for your tastebuds' pleasure, here are 16 of the Best Low Carb Keto Cauliflower Recipes that'll cure all your foodie cravings!
This post may contain affiliate links, read our full disclosure here.
While cauliflower florets were the backbone of low carb keto pizza crusts, this versatile veggie actually has a few more tricks up its sleeve.
Below are some crazy good recipes that can be made with… you guessed it.
CAULIFLOWER!
Even if you aren't a fan of cauliflower, I say give these recipes a shot.
I think you'll be in for a neat surprise. 😉
1. Loaded Pizza Cauliflower Nachos
This low carb keto loaded pizza cauliflower nachos recipe is an absolute treat.
I love that you get a taste of pizza in every bite and that it's really healthy too, despite being "loaded" with cheese and mini pepperonis!
So good.
Get the recipe at InsideBruCrewLife
Related: 10 Unique Low Carb Keto Pizza Recipes Perfect for Breakfast, Lunch, & Dinner
2. Easy Cauliflower Mac and Cheese
As an avid mac and cheese lover, I 100% approve this low carb cauliflower version.
Made with heavy cream, cheddar cheese, garlic, and butter, there's little room for error.
You can serve this by itself or as a side to your favorite keto meal!
Get the recipe at OurCountertop
3. Low Carb Keto Cauliflower Hummus
Chickpeas aren't keto friendly since they're part of the legume family, but luckily cauliflower wears many pants and hummus turns out to be a perfect fit!
This low carb cauliflower hummus is pure deliciousness and will fulfill all your snack time needs.
Enjoy it with veggie sticks or on homemade low carb flatbread and crackers.
Get the recipe at FatForWeightloss
4. Low Carb Keto Cheesy Cauliflower Fritters
These cheesy cauliflower fritters are the perfect substitution for hash browns.
They're crispy, cheesy low carb bites that can be eaten alone or with a side of whatever it is you're having!
Get the recipe at KirbieCravings
5. Keto Cauliflower French Fries
While seemingly similar to the cauliflower fritters above, these snackable french fries contain cream cheese and a few other ingredients that set them apart.
These are a great snack for kids too being that they're baked and a mere fraction of the calories of the real thing.
Serve them with our favorite sugar-free ketchup!
Get the recipe at CertainlyKeto
6. Low Carb Keto Cauliflower Potato Salad
Now that we've got crispy, let's get to the creamy!
I've made this low carb keto cauliflower "potato" salad once and never looked back!
Get the recipe at KetoCookingChristian
Related: 11 Best Low Carb Keto Salad Recipes You'll Love Eating
7. Creamy Keto Cauliflower Chowder
There's nothing like warming up to a bowl of hot soup.
This creamy keto cauliflower chowder is mouthwateringly good and has all the fixings to get you in a great mood!
Tip: For added crunch and flavor, crumble some keto crackers on top!
Get the recipe at Hip2Keto
8. Low Carb Keto Cauliflower Bread
Okay, cauliflower never ceases to amaze…
Just look at this wonderful bread you can make with this wonderfully versatile veggie!
Get the recipe at KirbieCravings
9. Instant Pot Cauliflower Soup
If you live for instant pot recipes, you've got to add this low carb keto cauliflower soup to your recipe arsenal.
Creamy, buttery, bacon-y, garlic-y cauliflower goodness.
What are you waiting for?!
Get the recipe at TheFlavoursOfKitchen
10. Shepherd's Pie with Cauliflower Topping
Meal prep your way to keto weight loss with this tasty keto shepherd's pie recipe.
This dish is always a hit at our dinner table and I love that it's so easy to make as well!
Get the recipe at JoyFilledEats
Related: 14 Best Low Carb Keto Chicken Casserole Recipes You Need Right Now
11. Low Carb Keto Creamy Parmesan Instant Pot Mashed Cauliflower
Here's another favorite for your instant pot.
Let me tell you, this mashed cauliflower is the stuff of keto dreams.
It's sure to satisfy your mashed potatoes cravings with plenty of garlic, fresh thyme, parmesan cheese, and yogurt!
Get the recipe at SweetPeasAndSaffron
12. Cauliflower Eggs Benedict
Serve up this beloved brunch dish with a cauliflower hash brown pattie that's literally heaven.
And if you've never made hollandaise sauce, no need to fret!
It's something anyone can make, just be patient and remember to whisk whisk whisk!
Get the recipe at Delish
13. Spicy Roasted Cauliflower with Cheese Sauce
Cheese smothered anything is a green light.
This spicy roasted cauliflower bites with cheese sauce is amazing comfort food and is such a breeze to make.
Pasta cravings satisfied.
Get the recipe at BudgetBytes
14. Low Carb Keto Buffalo Cauliflower
Another way to enjoy cauliflower is simply by baking or roasting them and serving alongside your favorite sauce.
In this case, buffalo sauce!
Of course, you can use any low carb wing sauce such as BBQ, sriracha, etc.
Get the recipe at EvolvingTable
Related: 7 Best Low Carb Keto Air Fryer Chicken Wings Recipes
15. Cauliflower Tortillas
Get your faux carbs here!
These cauliflower tortillas are a staple in our household because they're keto-friendly and a lot healthier than regular tortillas.
Enjoy them with cheese and meat for a quesadilla or use them as wraps for an easy low carb meal.
Get the recipe at RecipeGirl
16. Loaded Keto Cauliflower Bowl
You (and the kids) can gobble up veggies in a most delectable way with this loaded keto cauliflower bowl.
Not only is this bowl bursting with cheese, it's full of flavor so that even the pickiest of eaters can devour it right up!
Get the recipe at HeyKetoMama
That's it! We hope you like these recipes and remember to Pin It so you can come back to it later!
---
More keto recipes you might like:
Looking for more recipes? Tasteaholics offer an amazing cookbook bundle with 4 books that are perfect to have in your kitchen. Each cookbook contain a month of recipes (that's 30 recipes… EACH!) and can be made with only 5 ingredients in 5 easy steps. In addition, each recipe contains only 5g of carbs. It really cannot get any easier!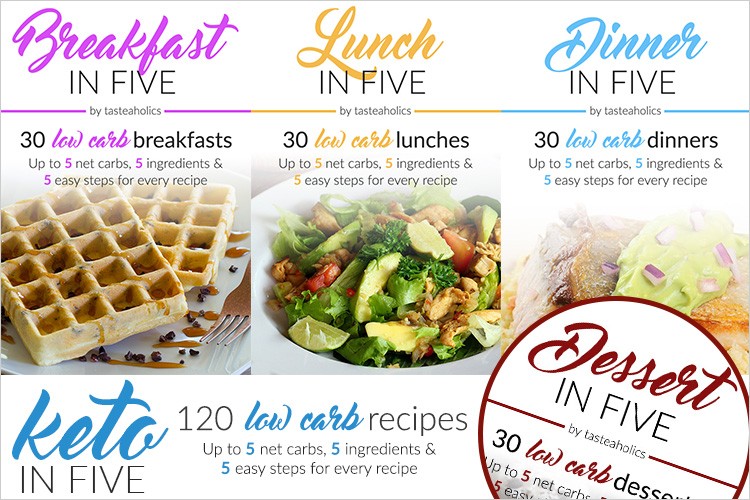 And if you're looking for easy low carb meal plans, Tasteaholics also offers a subscription to weekly plans sent straight to your inbox. Check it out!
---
---