24 Best Low Carb Keto Pizza Recipes The Whole Family Will Love!
Who said pizza can't be low carb? While you certainly can't have real pizza on the ketogenic diet, these alternatives are just as good and won't wreck your diet. Here are 24 of the Best Low Carb Keto Pizza Recipes the whole family will love!
This post may contain affiliate links, read our full disclosure here.
When you have a deep seated love for pizza, you've got to be willing to get a little creative. And more often than not, that creativity is rewarded tenfold.
Discover these amazingly delicious and profound keto pizza recipes that'll make you wonder is that really low carb??
To get to any of these yummy recipes, simply click through the link at the bottom of each picture!
1. Delicious Almost No Carb Pizza Recipe
This keto pizza recipe is crustless.
Well, almost.
The low carb crust is made from cream cheese, parmesan, and eggs meaning it's 100% low carb YUM.
Get the recipe at 730SageStreet
2. Keto BBQ Pulled Pork Pizza
Made with fathead dough (cream cheese, mozzarella, and almond flour), this BBQ pulled pork keto pizza is one for the books.
The keto approved BBQ sauce is especially good and what's great is you can use it in other recipes as well!
Get the recipe at HowToThisAndThat
3. Keto White Pizza – Grilled Chicken and Spinach
If you like a good white pizza, this is a great keto version.
This pizza is also made with fathead dough, but it's topped with plenty of chicken, spinach, and mozzarella.
Get the recipe at HowToThisAndThat
4. Keto Pizza Rolls
For a handy snack or as a quick meal, bake up a batch of these keto-friendly pizza rolls.
The crust is made with a combination of mozzarella, cream cheese, almond flour and egg.
You can even fill these with sweetened cheeses for dessert or load them up with veggies!
Get the recipe at LowCarbeDiem
5. Low Carb Deconstructed Pizza Casserole
This low carb deconstructed pizza casserole is an easy way to enjoy pizza on the keto diet.
This recipe is great when you don't have time to prepare a crust. Simply toss in the ingredients and bake!
Prepare ahead of time and store in the fridge until needed!
Get the recipe at KalynsKitchen
6. Coconut Flour Pizza Crust
Here's a pizza and crust recipe you can hold with your hands.
While coconut flour has a slightly sweeter taste, it can easily be masked by your choice of pizza toppings.
Get the recipe at HealthyRecipesBlogs
7. Chicken Crust Pizza
So by now you've heard of fathead, cauliflower, and even coconut flour pizza crust, but what about chicken crust?
This revolutionary crust is made out of ground chicken and mozzarella – that's it!
Just be sure to use nonstick parchment paper as chicken crust is STICKY.
Tip: Although we personally haven't tried it with anything other than chicken, ground turkey or beef might be worth a try!
Get the recipe at JenniferBanz
8. Chicken Alfredo Keto Pizza
Here's another way to enjoy keto pizza.
This pizza is made with KBosh's pizza crust. These are healthy vegetable-based crusts and come in zucchini and broccoli varieties. These are great when you're low on time and want to enjoy a keto pizza ASAP. 
Get the recipe at AllDayIDreamAboutFood
9. Keto Skillet Pizza
For those of us who love the speediness of skillet cooked meals, this keto pizza is a winner.
This pizza is ready to eat in 20 minutes. I mean, can you really beat that?
Tip: Slice the pizza before it has time to cool to ensure that you can actually cut the thing!
Get the recipe at HealthyRecipesBlogs
10. Low Carb Pizza Bagels
This keto recipe is one of our favorite twofers.
Learn how to make delicious low carb bagels as well as how to transform them into pizza bagels!
Get the recipe at PeaceLoveAndLowCarb
11. Keto Pizza Margherita
This keto margherita pizza is made with a fathead crust and topped with tomato sauce, mozzarella, and fresh basil leaves.
It's simple but assuredly delicious!
Get the recipe at Diethood
12. Low Carb Keto Skillet Jalapeno Popper Pizza
Enjoy all the spicy goodness that are jalapeno poppers in pizza form!
This keto pizza recipe will definitely be a household favorite.
Get the recipe at HowToThisAndThat
13. Supreme Pizza Stuffed Peppers
There are a million and one vehicles for keto pizza toppings, but this is one of our absolute favorites.
Bell peppers already have a place on top of pizzas, so naturally they can act as the crust too!
Get the recipe at PeaceLoveAndLowCarb
14. Keto Portabello Pizzas
Mushrooms are another common topping gone keto pizza crust.
Portabello mushrooms' large size make them perfect for holding up plenty of toppings.
Get the recipe at MeganSeelinger
15. Zucchini Pizza Bites
Pizza toppings atop of zucchini slices.
Are you getting the pattern here? 😉
While certainly not enough for a meal, these are great little snacks to curb your pizza cravings during the day.
Get the recipe at EasyLowCarb
16. Low Carb Meat Lover Pizza Cups
Another snack favorite here at Keto Whoa are these mini pizza cups.
These are so easy and taste like a mini ham pizza.
Just line deli meat into a muffin tin and place your favorite toppings inside for a lovely treat.
Get the recipe at NorthernNester
17. Sausage and Pepperoni Pizza Pie
This keto pizza in a savory pie crust (almond flour, eggs, and butter) is literally the stuff of dreams.
Grab a fork because this keto pizza recipe is so GOOD.
Get the recipe at KetoCookingChristian
18. Pepperoni Pizza Stuffed Meatloaf
This keto pizza stuffed meatloaf could easily impress at dinnertime.
Let's just say you won't miss the breadcrumbs…
Get the recipe at JoyFilledEats
19. Low Carb Keto Crockpot Crustless Pizza
This keto crockpot pizza is a lifesaver for busy days.
Just toss everything inside the crockpot before work and have a homemade pizza ready when you get home!
Get the recipe at MomsWithCrockpots
20. Keto Pull Apart Pizza Bread
This keto pull apart pizza bread is a great appetizer or side you can bake in as little as 35 minutes!
Get the recipe at ISaveA2Z
21. Low Carb Pepperoni Pizza Chicken Bake
This keto pizza chicken bake is proof you don't need a crust to make a delicious pizza.
Get the recipe at KalynsKitchen
22. Pepperoni Pizza Keto Crustless Quiche
This pepperoni pizza keto crustless quiche is perfect fuel for a morning breakfast.
Get the recipe at KalynsKitchen
23. Keto Parmesan Pizza Crisps
These keto parmesan pizza crisps take less than 10 minutes to make and taste like pizza chips!
Tip: These crisps are totally customizable. Add your favorite pizza herbs, thinly sliced meats, and even veggies!
Get the recipe at Instrupix
24. Keto Fathead Pizza Pockets
These keto fathead pizza pockets are going to be your new favorite go-to meal.
They also make great meal preps!
Get the recipe at HeyKetoMama
That's it! We hope you like these recipes and remember to Pin It so you can come back to it later!
---
More keto recipes you might like: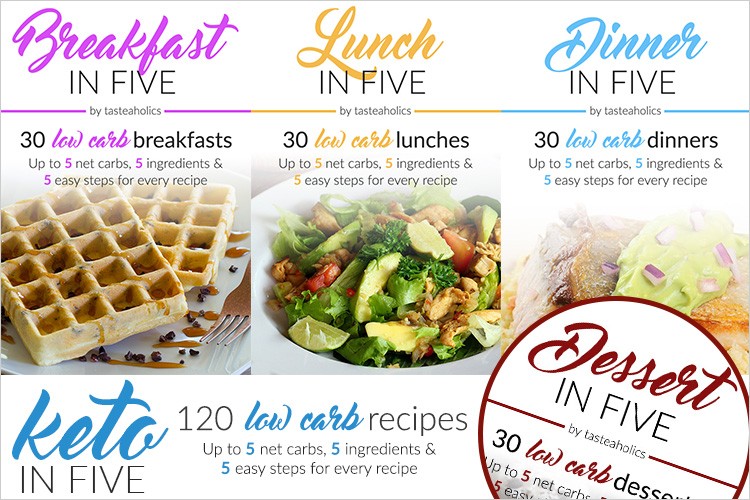 ---
---