14 Best Low Carb Keto Popsicle Recipes to Beat The Heat
Beat the heat with 14 of the Best Low Carb Keto Popsicle Recipes that are certified delicious! These sweet treats are a breeze to make and are something the whole family can enjoy. Have them for dessert or as a tasty snack throughout the day!
This post may contain affiliate links, read our full disclosure here.
These low carb keto popsicle recipes will no doubt bring you fond memories of your childhood.
But unlike the sugar-filled treats of the past, these popsicles are as low carb as they come and surprisingly easy to make – all you'll need are popsicle molds and a handful of ingredients like heavy cream, coconut milk, frozen fruit, and sweetener.
More keto desserts:
To get to any of the recipes, click through the highlighted link below each image and description.
So without any further ado, let's get to it!
1. Keto Lime Popsicles
This dairy-free lime popsicle is made with macadamia and coconut milk, which lend it its creamy yet light texture.
To make a batch, simply blend the ingredients and freeze overnight.
Get the recipe at FitMomJourney
2. Keto Probiotic Berry Cheesecake Popsicles
Get the goodness of a probiotic in this refreshing popsicle made with cultured cream cheese and frozen berries.
Get the recipe at AllTheNourishingThings
3. Low Carb Keto Root Beer Float Popsicles
These fat bomb root beer float popsicles are perfect for when you need to satisfy your sweet tooth and reach ketosis too!
Get the recipe at SimplySoHealthy
4. Low Carb Keto Coconut Popsicles
Make these coconut popsicles when you need a taste of paradise at home.
While the low carb chocolate coating is optional, it's HIGHLY recommended!
Get the recipe at SimplySoHealthy
5. Keto Tiramisu Popsicles
These rum and coffee keto tiramisu coffee popsicles are so good, you'll forget they're low carb!
Get the recipe at KetoDietApp
6. Frozen Strawberry Whipped Keto Pops
Here's another popsicle recipe that's heavy cream based but made with fresh strawberries.
Tip: Because heavy cream is the key ingredient in keto mousse, you can definitely beat your "popsicle" mix and turn it into a decadent low carb mousse!
Get the recipe at KudosKitchenByRenee
7. Low Carb Keto Cold Brew Coffee Popsicles
With only 3 ingredients, one of which is coffee (YUM), you can't not make these cold brew keto popsicles.
Get the recipe at HaveButterWillTravel
8. Keto 2 Ingredients Lemon Popsicles
Water, sweetener, and lemon juice are all that's needed to whip up a batch of these keto lemon popsicles.
Plus, lemon juice is a great detoxifier making this a healthy treat all year round!
Get the recipe at TraditionalCookingSchool
9. Low Carb Keto Neapolitan Popsicles
Made with mascarpone cheese and heavy cream, you know these keto Neapolitan popsicles are going to be good.
This is another recipe that would also make a great low carb mousse!
Get the recipe at KetoCookingChristian
10. Low Carb Keto Fudge Popsicles
Of course, what's a keto popsicles listicle if there are no fudge option?
Like our other popsicle recipes, this one also has a base of heavy cream, but 2 large eggs are added to make it that much richer!
Get the recipe at SimplySoHealthy
11. Low Carb Keto Orange Creamsicles
If you like orange creamsicles, you're going to love this keto version.
It's super easy to make, but does require a bit of TLC in creating the layers.
Get the recipe at SugarFreeMom
12. Keto Roasted Berry Popsicles
This recipe is more of a keto frozen yogurt popsicle, but it's still really good.
These stunning popsicles would make great palate cleansers for a low carb brunch!
Get the recipe at KetoDietApp
13. Low Carb Keto Key Lime Popsicles
Enjoy your favorite pie flavor as a popsicle!
These guys are seriously so good and they're vegan too!
Get the recipe at WholeNewMom
14. Sugar Free Peanut Butter Popsicles
Just 3 ingredients (coconut milk, toffee stevia sweetener, and sugar-free peanut butter) are needed to make these tasty keto peanut butter popsicles!
Get the recipe at SugarFreeMom
That's it! We hope you like these recipes and remember to Pin It so you can come back to it later!
---
More keto recipes you might like: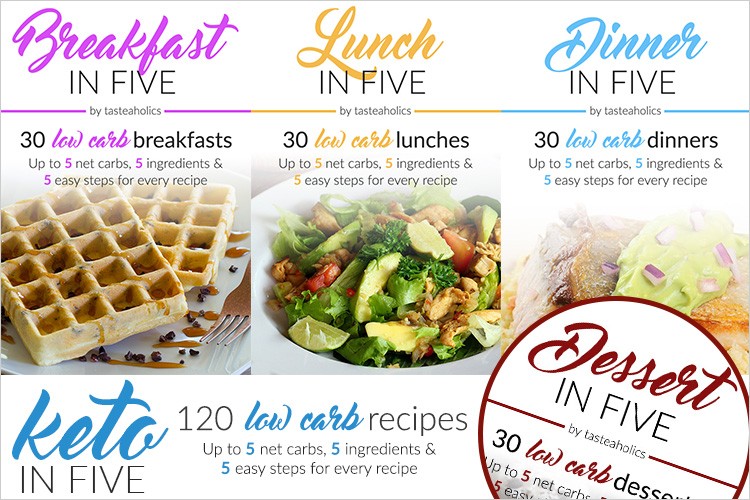 ---
---